Portrait of Judith Wright McKinney (1915-2000)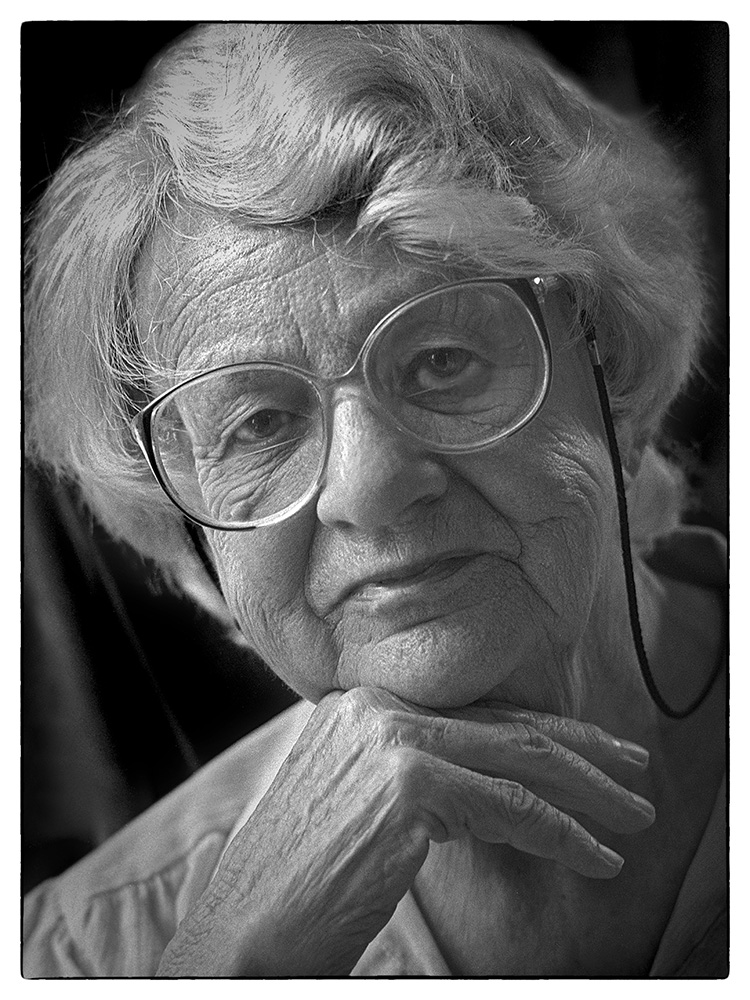 Portrait of Judith Wright McKinney (1915-2000) © copyright Heide Smith.
Introduction
Some years ago my husband Brian and I collaborated on a series of articles for the Canberra Times; he wrote the article and I provided the photograph. The articles were about both the photo session, and the person being photographed. This portrait of Judith Wright was taken in 1998, and this is the article .
the sitter
Judith Wright was perhaps best known as a prolific poet, essayist and short story writer, and generations of Australian schoolchildren have memorized her poems and read her stories. Over forty books of her work have been published, with numerous poems and essays appearing in literary journals. She received honorary doctorates from seven Australian universities; awards and prizes included the Grace Leven Prize for Poetry (twice), the 1965 Britannica Award for Literature, the World Prize for Poetry in 1984, the NSW Premiers Award for Poetry in 1991, the Queens Gold Medal for Poetry in 1992,and the Australian Human Rights Award for Literature in 1994. Her
autobiography "Half a Lifetime" was published in 1999.
Judith was married to philosopher and writer J P McKinney until his death in 1966; they had one child, daughter Meredith. Throughout her life she fought passionately for the environment and Aboriginal reconciliation, indeed, fellow poet A.D.Hope described her as "Australia's leading conservationist". Shortly before her death, Judith Wright still had the passion to join thousands of other Canberrans in a walk for reconciliation.
the sitting
"If you are a friend just walk in ", said the notice pinned to the door of the tiny ground floor flat in Lyons. The door was open, so I entered to find Judith Wright dozing in an armchair near the window. A mutual friend, Dymphna Clark, had suggested that my collection of portraits of outstanding Australians, would not be complete without Judith Wright. In March 1998 I had faxed off a short note asking if we could meet, and she had agreed. I knew that she was deaf, so I gently tapped her on the shoulder and showed her a card with my name on it. There was note paper on the table, and that was how we conversed; with me writing notes and Judith answering. Her deafness, shortsightedness, and reliance on a walker to get around, frustrated and annoyed her, and her humour was sometimes caustic. Never the less, she was mentally as sharp as a tack, and was at that time, working on "Half a Lifetime" her autobiography.
Light was a major problem. For my purposes, the window was in the wrong place, and in view of her disabilities, I was reluctant to ask my sitter to move. I solved the problem by rigging up a table cloth to reflect the window light onto her face. This created a new problem; reflections in her large glasses, but I thought that I could fix that in the darkroom. The background was also limiting, but overcoming limitations is part of the job. So I concentrated on expression, because I knew that the essence of this portrait would be Judith Wright's intellect, not the surrounding. I visited Judith on a number of occasions and I photographed her again a few weeks later, but her health had deteriorated further and I could not improve on my previous shots. I am grateful for the time that I had with this remarkable woman