Ardent Indigenous Australian Women – Part 5
Visiting my Tiwi Friends at Milikapiti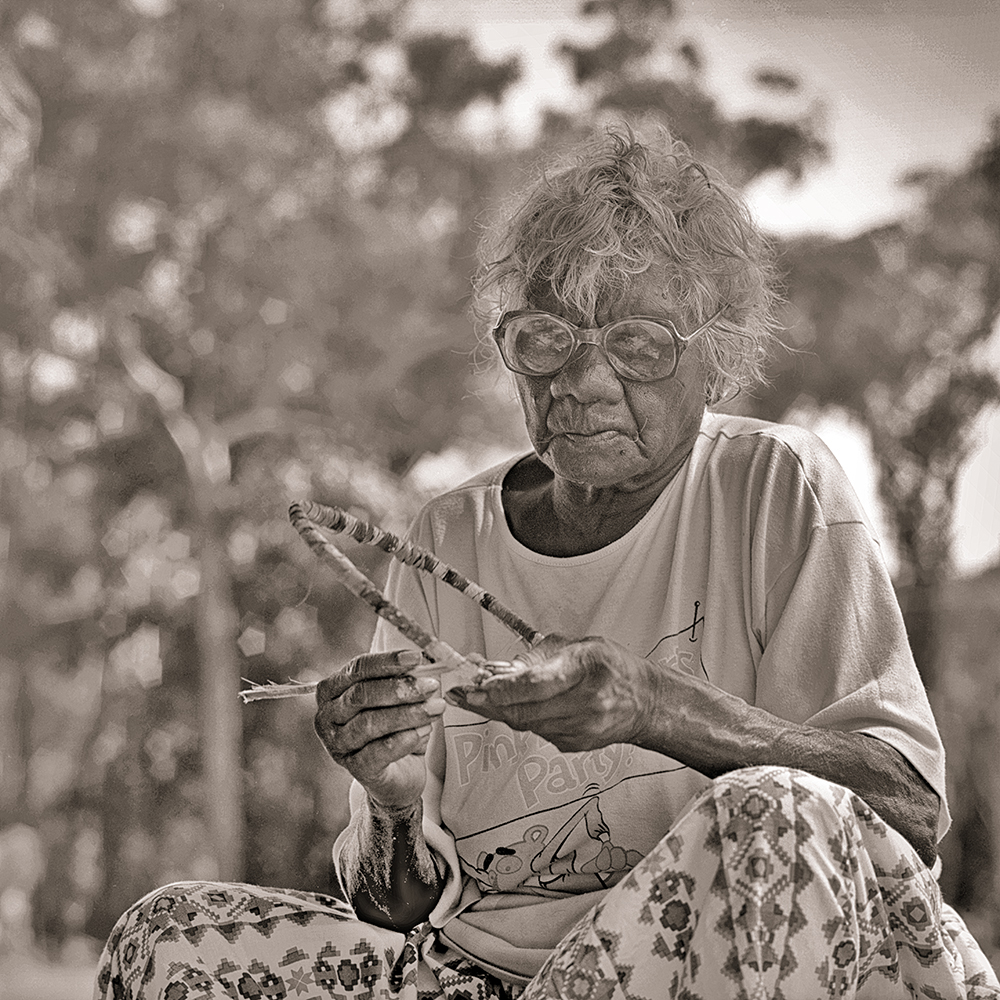 Polly Miller Mungatopi at Milikapiti 1988
Part 5 of a series of portraits of Ardent Indigenous Australian Women by photographer Heide Smith.
Polly Miller Mungatopi: The sea is calm and gently laps at the roots of the pandanus and the mangroves. My feet scrape through the sand. I find a shell or two. The rising sun pierces through the foliage, rays dancing on the shiny leaves. I want to find Polly Miller Mungatopi. Her art is displayed at the National Gallery in Canberra. When I get closer to her place, I call out.
This is what you have to do, Gerardine told me once: when you get near someone's place, you don't want to surprise them. It's not polite. I guess that's where the 'Cooee' stems from.
Anyway, there she is, sitting on an old plastic chair, munching mussels for breakfast. The dog is growling, and I am wary! Polly shouts at him, the dog moves just a little and I move closer for a chat. Later I photograph her whilst she is working on a ceremonial armband.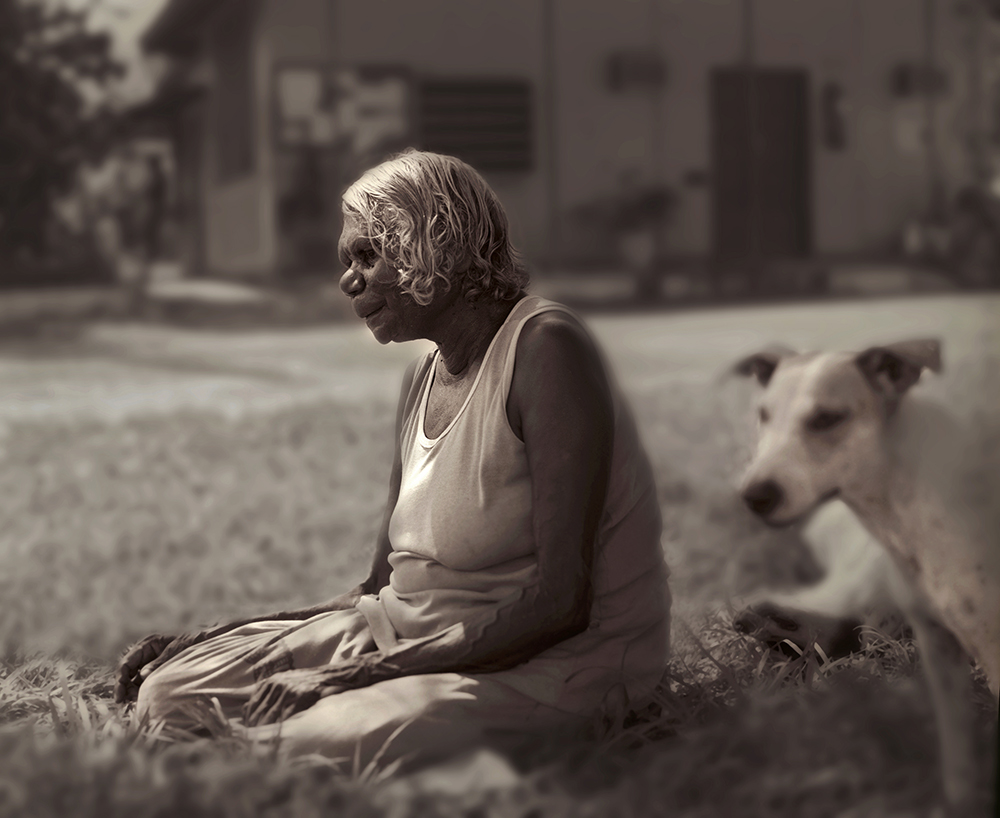 Joanna Tungatalum and dogs - Milikapiti - 1988
Joanna Tungatalum: Further up the track I see Joanna Tungatalum, a relative of Gerardine. She is surrounded by her dogs, about seven of them. Then I remember Sarah, my other 'sister', showing me how to deal with 'cheeky'(nasty ) dogs: "Just bend down, pick up a stick and they will leave you alone", she said. It worked. The dogs are extremely observant.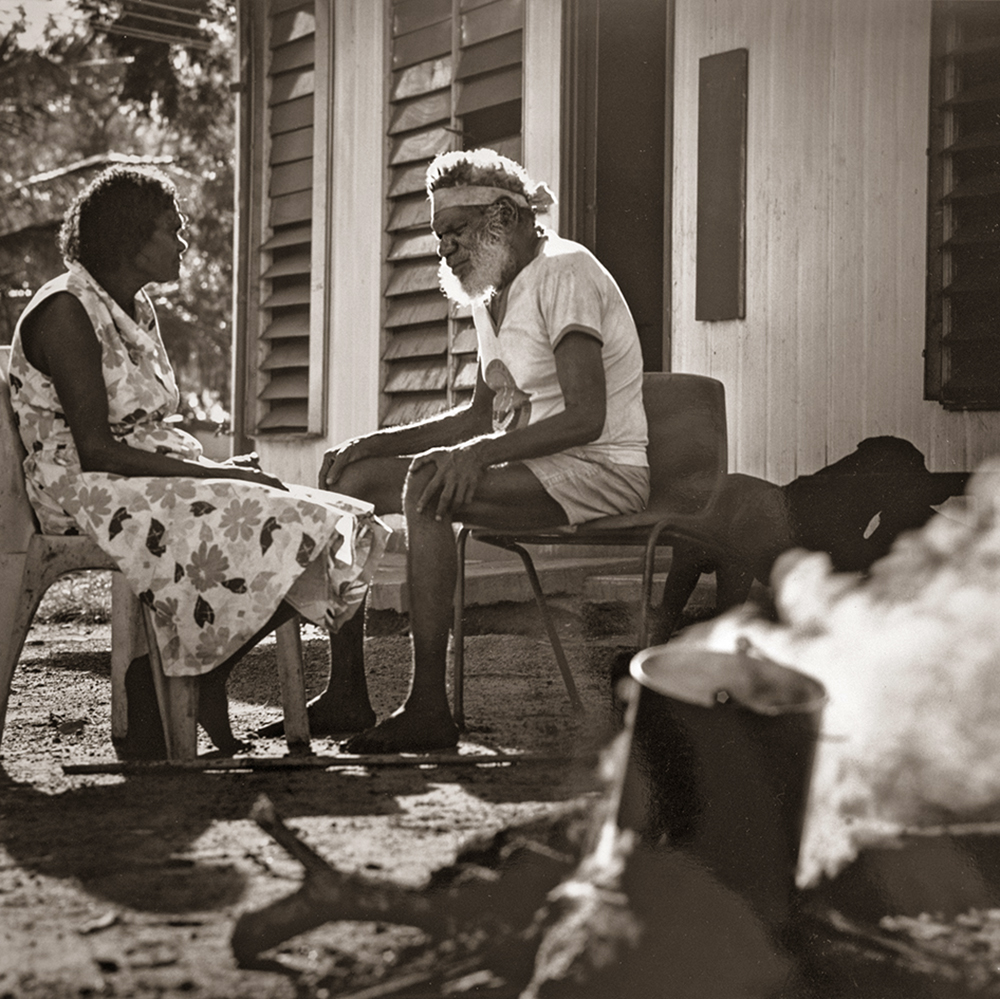 Paddy Henry with wife Nancy - Milikapiti 1988
Paddy & Nancy Henry: A little later I am with Paddy Henry and his wife Nancy, sitting in the morning sun. Nancy shows me a large freshly caught mud crab. "It's for him." She gives Paddy Henry a beautiful smile. Nancy is much younger than her husband. She was promised to him at the time of her birth, when he was already a grown man. This custom is no longer practised today. Paddy Henry lost an eye a few years ago whilst working on a carving. Nancy is fit and agile, a good hunter and provider, and Paddy could not have a better carer!
The story appears in my second Tiwi book, "Portrait of a People - the Tiwi of northern Australia" which you can still buy, in my bookshop. I still find it fascinating.
In the weeks to come, I'll introduce you to more portraits and stories of these strong indigenous Australian women - sadly many of them are no longer with us.
Ngya Mamanta Tiwi – Heide Smith
Viewers should be aware this collection contains references to, and images of deceased people