The story behind the image - Gerardine
In our last blog we featured the Josef Lebovic Gallery Catalogue of Heide's work. We talked about the work involved in preparing images for the catalogue of such a prestigious gallery, and we promised a future series of posts talking about "the story behind the image". So here's the first.
The Story behind the image - The Tiwi
My first visit to the Tiwi Islands was In July 1987, aboard the Trisha Kate, a roll-on barge supplying isolated settlements in the Arafura Sea. I had signed up as a cook and bottle washer on the barge which visited Croker Island, Maningrida, Millingimbi, Ramangining, Buckingham River, Elcho Island and the Tiwi islands, before returning to Darwin.
After photographing a buffalo round-up at Goodparla Station, and crocodiles in the Alligator Rivers, I flew back to Nguiu on Bathurst Island. I had a permit to visit the Tiwi islands. I only stayed a week, but that was enough for me to make up my mind. I had seen many strange and fascinating sights during my travels through the "top end", but it was the Tiwi Islanders who captured my heart; I wanted to know them better, and I wanted to produce a photographic portrait of the people. Two books, numerous exhibitions and 30 years later, I'm still visiting and photographing the Tiwi.
The Story behind the image - Gerardine
Gerardine Tungatalum was one of the first Tiwi women I met on that first visit in 1987. Somehow I felt that I knew her already. Her deep voice was commanding yet reassuring. We became "sisters", and we travelled everywhere together, Geradine translating and explaining all the while. It was largely due to this relationship that the Tiwi accepted me so readily. This portrait was taken in 1988 when I lived with the Tiwi for almost three months.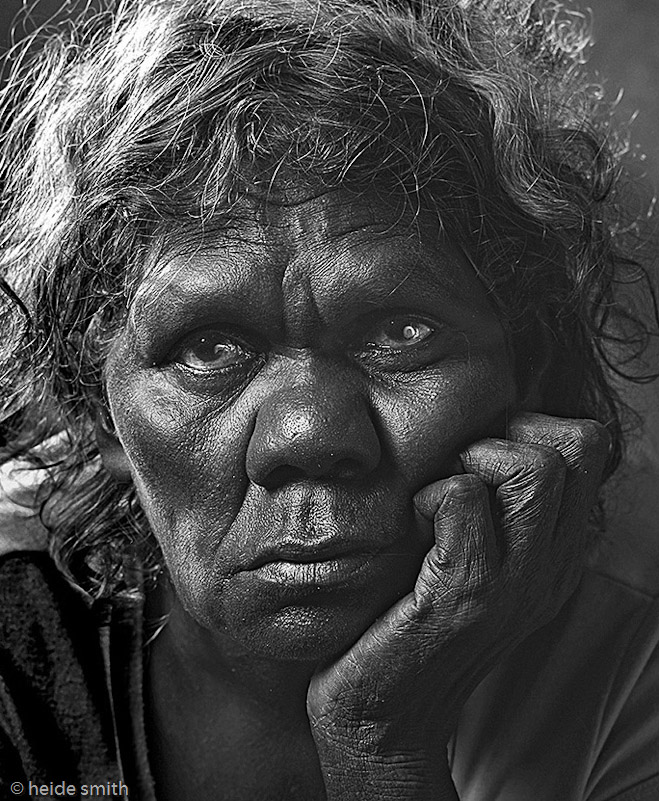 From the catalogue
20.| |Gerardine Tungatalum, Tiwi Islands, Bathurst Island,| 1988/1989.| Vintage silver gelatin photograph, titled, signed and dated in pencil verso, 35.7 x 27.7cm. | $4,400|
Illustrated in Smith, Tiwi: The Life and Art of Australia's Tiwi People, 1990, p66.
To Purchase images from the Catalogue.
Please contact the Josef Lebovic Gallery on 0296634848, or email josef@joseflebovicgallery.com
To Purchase images from the Catalogue.
Please contact the Josef Lebovic Gallery on 0296634848, or email josef@joseflebovicgallery.com